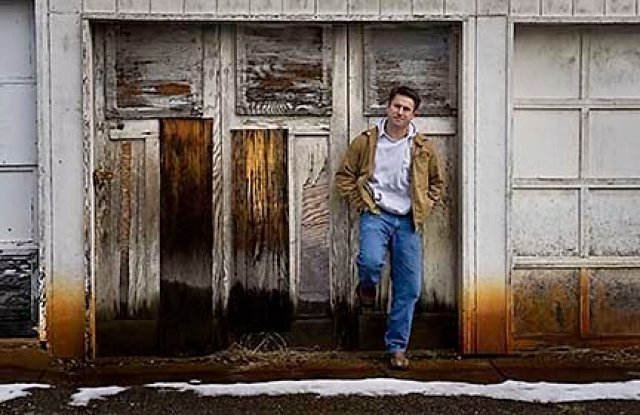 Photo credit: Nancy Wegard
B.J. Ward, the judge of the 2014 WCPA Frank O'Hara Prize, co-directs the creative writing degree program at Warren County Community College in New Jersey. Read below to learn about his experience as a judge for the Frank O'Hara Prize, tips for writers, and inside information behind two of his poems that appear in volume XXXV of The Worcester Review.
As the co-director of the creative writing degree program at Warren County Community College, what has been the most rewarding part of working with students? In what ways has teaching writing helped you grow as a writer?
My first inclination was to say that teaching has not helped me much as a writer, nor have I expected it to. Writing and teaching require different types of awareness. For me, the energy it takes to write well is an inward type of delving; when I teach, my energy is (hopefully) going outward, attempting to enter the minds of everyone else in the room with my little shovel, trying my best to make my students' lives better in an hour and twenty minute session. In this way, teaching in a classroom is a public act. As a student, I've always been grateful for the teacher who looked at a book as an intellectual meeting place for everyone in the room and made sure everyone felt invited. I felt a little marginalized when a professor would be too inward with his focus, presenting the text as a personal playground we got to observe from the other side of the fence.
Just as momentum can shift in a baseball game with a couple of base runners, momentum can shift in a class session (for better or worse) with just two or three comments. Teaching well involves being aware of the energy in the room, an outward-going attention. & Writing, however, feels very private to me—at least the initial flurry of words on the page in which I'm unearthing things I didn't know I knew.
And yet something else must be acknowledged: there's cross-pollination between inward and outward energies after the initial act in each instance. Revising my work towards publication usually involves some kind of outward awareness, and consideration of how a lesson plan went and how it can be improved for the next presentation involves that inward energy.
So my first inclination was wrong. If I further consider how teaching has helped my writing: discussing a poem a few times inevitably brings greater insight to it. For me, that usually has to do with the poet's crafting, which inspires me to work on my own craft more.
And beyond this, teaching gives me a way to continue to think actively about words during my day job—a luxury I didn't have when I was a waiter or boxing stereos at the Kenwood plant in Mount Olive, NJ.
Furthermore, and to mention one of the most rewarding aspects of my jobs, my students often become friends, and their enthusiasm for their continued learning bolsters my enthusiasm for my own self-education.
What was your experience like as a judge for the Frank O'Hara Prize? What was the most interesting aspect? The most difficult?
It was a difficult job because there were so many good poems. It was tough to choose the top seven (three places and four honorable mentions). I could easily have awarded more honorable mentions, although I agree with the Worcester County Poetry Association's limit of only four as we want to avoid too many.
The most interesting aspect: how certain lines in the anonymous entrants' poems would come back to me while I was driving or washing dishes. In the winning poem: "Cold undoes us. We learn again to be simple…" In the second place poem: "with the delicacy required / to sweep up between the vases and the chandeliers in the glassblower's shop…."
Grasping the complexity of your poem "Daily Grind" requires an understanding of Othello. Did the poem's subject serve as an inspiration for the reference, or did Othello serve as an inspiration for the poem?
I started that poem in 1997. I had written a book of love poems, half of which were about the woman I was living with, and the book was at press. While the book was being printed, I grew suspicious that the woman was cheating on me. I asked her about it on two occasions, and she twice denied it. (She would later admit everything, after which we would break up.) At this time, between the second denial and the confession, I was making an effort to read all of Shakespeare's plays. In the case of Othello, it was a revisit—but there was no way I could have comprehended its magnitude when I first encountered it as a junior in high school. But here it was, splayed on my kitchen table every morning for about three days instead of the newspaper. I was rabid for the news of that play—it made so much sense to me. On that third day, I started to compose "Daily Grind." The woman didn't like that poem. But she's long gone now, living in Phoenix last I heard, and the poem is still my friend.
How does a writer decide whether a reference adds to his poem or takes away from it?
One of the basic conundrums of being a writer: we are using the world we inherited to create a new world that seems truer. References are unavoidable if you write long enough. I believe that Stephen Dunn offers the best advice for consideration here: In his book, Walking Light, he says we should write for "the willing, intelligent audience." I stand by that. I don't think Othello is so arcane an allusion it would detract from a reader's understanding, especially if he/she were willing to look up, at the least, the basic plot line. Then again, if something is especially esoteric, a writer can employ endnotes, epigraphs, or other ways of illuminating information that would serve the poem, even for the "willing, intelligent audience."
What advice do you have for other writers revising their work? Can you talk about the editing process behind "Resurrection" and how the early drafts differ from the final version?
"Resurrection" took about eight years to write. In the case of this poem, it was winnowed down from a bulk of language. I tried to remain faithful to sounds. In the revision process, when something didn't sound right, it was an indication it needed to be excised. I believe a poem should be perceived by the reader's body as well as her/his mind, and the sounds of a poem are key to this. In the eight-year process of writing "Resurrection," this served as the main guiding principle.
Needless to say, you are quite an accomplished poet. Did you always want to write? What has been the most surprising part of your writing career so far?
I always wanted to read, and then the desire to write was cultivated by some great teachers I've had: Edwin Romond, Stephen Dunn, Stephen Dobyns, Hayden Carruth, and others. The most surprising part of writing, I suppose, has been the silence that usually greets a book of poetry when it is released. Not negativity (although there's been some of that), but silence, punctuated with an occasional slap on the back and an "Atta-boy" by the poets who've been doing this even longer than me.
So I've learned to make silence a companion. In fact, as I've grown older, I've begun to learn that poetry is not just a manipulation of words down a page, but also an orchestration of the silences around those words. I've not only grown comfortable (out of necessity if I were to continue to be a poet) with silence, but I've recently begun attempting to cultivate it on the page.
Robert Frost once suggested, "To be a poet is a condition, not a profession." Do these words resonate with you? (If so, how?)
Absolutely. As the late Yehuda Amichai once told a group of us at the Dodge Poetry Festival, "To call yourself a professional poet is like calling yourself a professional lover—and we all know what that means." It is a condition, and that condition should never be taken for granted. One more thing: to be a poet, one must first become or continue to be the person who can write the poems, and that takes at least a little self-discipline.
What are the top three words of wisdom you have for unpublished writers?
I'm going to give four words, which Kevin Powers offered to my students when he visited my college four months ago: "Write fearlessly. Revise ruthlessly."
The Worcester Review would like to thank BJ Ward for contributing to volume XXXV and for participating in the online blog series. You can click here to visit his website and purchase his books.