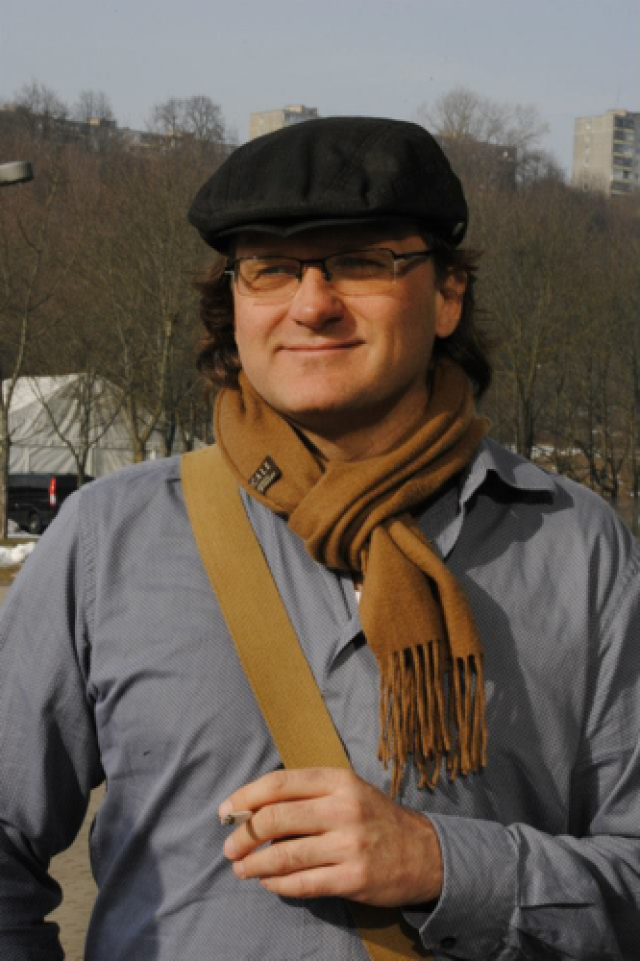 First, what was your inspiration for your poem "We"?
I was reading and translating a Lithuanian poet at the time, Donatas Petrošius, who had written a series of poems in response to films. One of these was inspired by Jim Jarmusch's "Dead Man". I recalled the river journey at the end of the film where the character William Blake floats out into the ocean to die. There is a dramatic and beautiful shot of his boat going out to sea with rain clouds looming beyond, sunlight breaking through. This image and the preceding journey triggered a strong personal response, which also struck me as archetypal. So I wrote the poem with that in mind—William Blake's journey is our journey. Hence the first-person plural, which I almost never use. The specific imagery of the poem is all from my own memories of rivers and seas. I made no attempt to comment on the movie because the thought of it had called up so many personal associations. The style of the poem was influenced by my reading W.S. Merwin's The Shadow of Sirius at the time. I was inspired by a number of his un-punctuated poems with no stanzaic form which seemed to fit the theme here of a continuous journey that is over so quickly you hardly realize what has happened.
How did you get into writing? When did you know that it was something you wanted to pursue seriously?
Well, I started to love poetry and the expressive use of language in high school. I took creative writing courses in high school and college. However, I always felt I didn't really know what to say, that I didn't have the experience or the talent, so it remained a hobby for many years. Nevertheless, my love for poetry wouldn't stop growing—I became especially attracted to foreign poetry, especially Polish. I must have been yearning for a connection to the land of my parents' birth (Adam Mickiewicz and Czeslaw Milosz, for instance, were both Poles from Lithuania). I also started improving my Lithuanian and periodically read Lithuanian poetry in the original. Eventually, I realized that I did not want to write academic philosophy papers, but rather poetry. So I threw all caution to the wind and decided to do what I had always been dreaming of doing: to devote myself to the art. This was roughly 6 years ago. Because I was so disconnected from American literary life, going back to school for an MFA seemed the most sensible option. I needed to immerse myself in the American poetry scene, and Rutgers-Newark gave me what I needed.
Another poem you have written, "Return to Sender", conveys a sense of restlessness and movement. In it you often use the phrase "I ran" and describe how you move on to the next place. Are you still looking for a place to call home or do you just like moving around?
America never grew into my blood like it did for other first-generation immigrants I knew. I always felt a bit disconnected, like part of me belonged elsewhere. But when I went to live in Lithuania the first time (1992-3), I realized I was inescapably American even if I didn't really feel like I belonged there. A number of my poems deal with this sense of belonging to two separate cultures—I have one foot in each world. Sometimes this is an interesting perspective, sometimes it's a bit hard not knowing where you belong. New York City is the place that feels like home to me more than any other—probably because it is a place where anyone can go (and so many do) who doesn't particularly belong anywhere else. Everyone can be home in New York. Yet here I am in Vilnius. My other home. I feel both a part of literary life here and like an outsider. So it goes.
You went to college in the United States but now teach at Vilnius University in Lithuania. What are some differences between universities in these two countries?
First of all, I have very small classes at Vilnius University, averaging about 12. That is certainly a nice change. Some students are highly motivated, some are not. That is the same. One of the most striking differences with respect to students is the unavailability of books. No one has money to buy books. The department can get some for its library, and students can borrow or partially scan or partially photocopy, but almost none of them can buy anything. On the other hand, all of my students are multi-lingual: Lithuanian and English for sure, some are also native speakers of Polish or Russian, and many study another language as well. Through the European Union Erasmus Program students can choose to study abroad for a semester, and we receive visiting students from other EU countries as well. In these ways, they have a multi-cultural and multi-lingual educational experience that goes beyond what many Americans experience.
For professors, the wages for yearly contracts are lower here (even when adjusted for standard of living), but all citizens are part of the national health care system, so it is not quite as bad as the adjunct exploitation that goes on in the states. The technical aspects of US universities tend to be better, although VU has made great advances in, for example, allowing laptops to be hooked up in class rooms, building computer labs for language learning, and so on. It must be said as well, VU is a beautiful old town campus, replete with Baroque architecture, secret courtyards and labyrinthine passages. That's just not something you experience in the states.
What are some books, collections of poetry, or writers you would like to see translated from Lithuanian into English, whether by yourself or another translator? I could be wrong but I can't think of too many Lithuanian authors whose work has already been translated into English. Can you recommend any?
There are not many works of Lithuanian literature available in English. There are some published in England which are then ignored in the states. Others are out of print. Marius Burokas and I just published an anthology through the Lithuanian Culture Institute, How the Earth Carries Us: New Lithuanian Poets, but it is not available for sale because it is meant to be given out to publishers, educators and critics who might be interested in helping spread Lithuanian literature abroad. (A free pdf is available here) We came to the states in the spring, presenting this anthology at AWP, Chicago's Balzekas Museum of Lithuanian Culture, and The Library of Congress. I am now looking for US publishers for manuscripts of poems (in my translation) by Judita Vaičiūnaitė, Marius Burokas, and Giedre Kazlauskaitė. (I have been publishing their poems in journals in the US and UK as I go.)
There are a few other translators putting books out. In poetry, Kerry Shawn Keys has published his translations of Laurynas Katkus; Jonas Zdanys has translated and published Kornelijus Platelis; H.L. Hix collaborated with Eugenijus Ališanka to translate a couple of the latter's books into English. In prose, Elizabeth Novickas has published her translations of novels by Ričardas Gavelis and Kazys Boruta. There are others, but those spring to mind as both recent, worth reading, and available in the states.
Thank you, Rimas for your taking the time to chat with us!